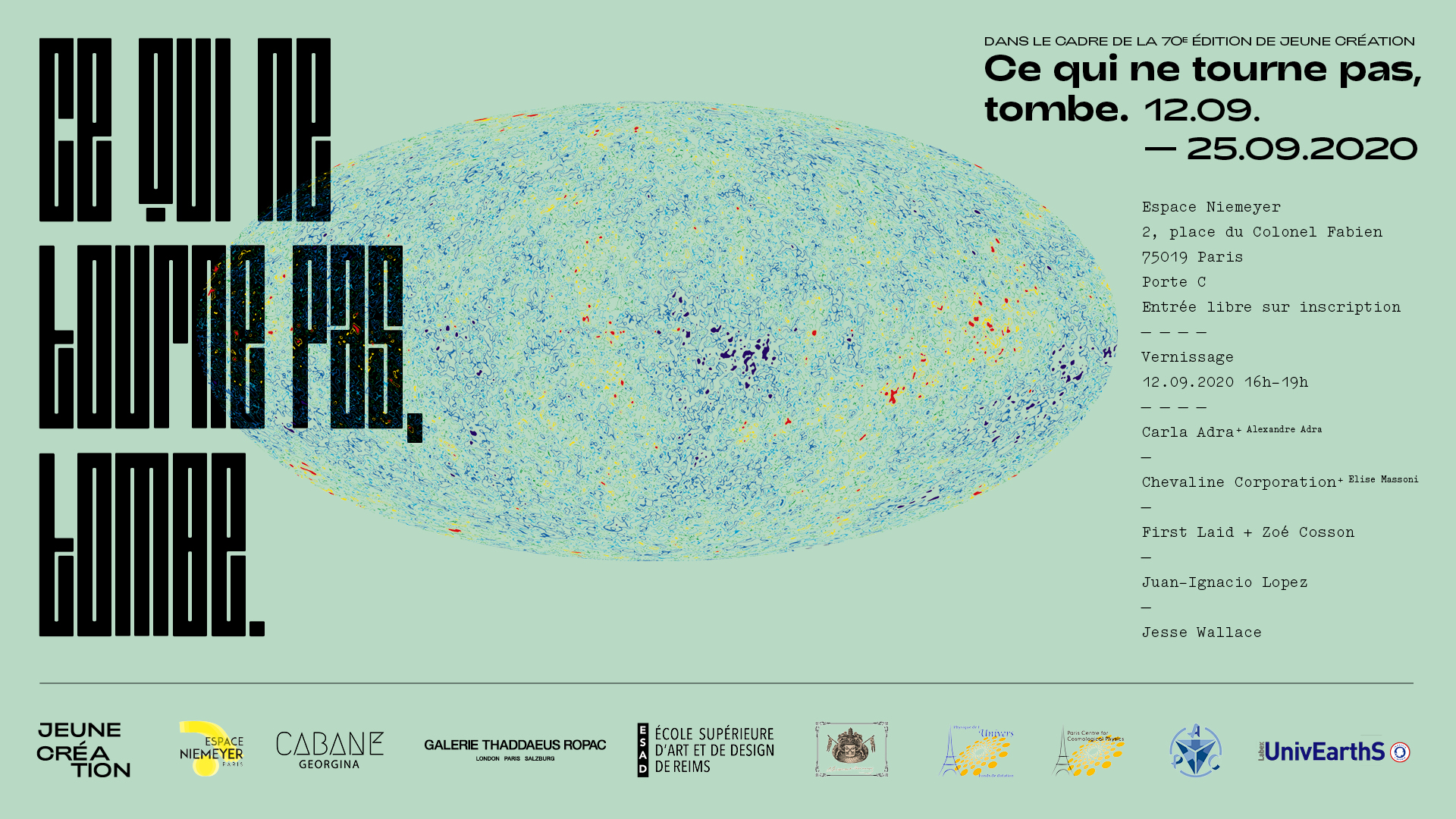 Espace Niemeyer. 2 place du Colonel Fabien, 75019 Paris. Metro stop Colonel Fabien, Ligne 2. https://espace-niemeyer.fr
Carla Adra, Chevaline Corporation, Zoé Cosson, First Laid, Juan Ignacio Lopez, and Jesse Wallace, artists and collectives graduated from the Reims Ecole Supérieure d'Art et de Design (ESAD) carried on a residency  at the Paris Centre for Cosmological Physics (PCCP) from September to December 2019.
As the final outcome of the residency, they organise the art exhibition « Ce qui ne tourne pas, tombe. » (That that does not rotate, falls), at the Espace Niemeyer as part of the collective "hors-les-murs" celebrating the 70 years of Jeune Création.
The Espace Niemeyer will open its gates from the 14th to the 25th September, 2020, Mon – Fri, 10:00 – 18:00 (last admission at 17h).
Vernissage on Saturday 12th Sept., 16:00 – 19:00.
Free admission with reservation.
The projet was financed by the "Fondation Jean-François et Marie-Laure de Clermont-Tonnerre fellowship" for young artists.
On September the 5th, 2019, we opened the doors of our very special factory, at 10 rue Alice Domon et Léonie Duquet, to a group of artists. They, the artists, are young graduates of an art school in Reims. They accept to enter and sit down with us around a huge table. We look at each other, amused, curious. What will happen is not entirely clear.
We remain seated around the huge table for a few months. We show the artists our objects, our symbols, our ideas, our paradigms, and our instruments. Our mechanical and electronic eyes. They look at them with their curious, shining eyes, they take notes on their black  notebooks.
Our objects are unattainable and elusive, often obscure and counterintuitive: black holes, quasars, a diffuse cosmic background. It is impossible to touch them, it is difficult to imagine their use. Difficult even to imagine them at all. And yet, they exist.
After a few months, our guests, the artists, find a thread: light, time, gravity, rotate which is a variation of falling, matter.
We leave this table with the feeling that, combining all our eyes, we made a step forward in understanding the Great Mystery. And yet, as in a classical zen story, we are left with more questions than before.